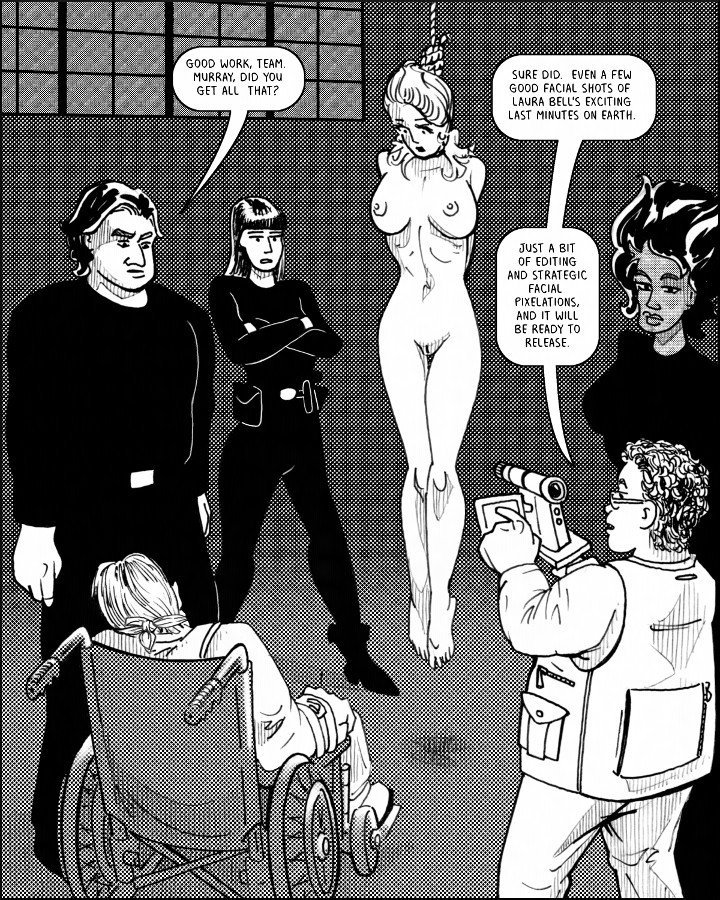 << First Page | < Previous Page | Next Page > | Last Page >>
Click on image for high-resolution version.
License

This work is licensed under a Creative Commons Attribution-NonCommercial-ShareAlike 4.0 International License.
Script
PAGE 26 (Single panel)
Single panel: Hector, Keisha, and Hong all stand around the now-dead Laura, whose body hangs by the neck a few feet off the floor from a rope leading up out of the panel. Bell in his wheelchair is visible, his head slumped forward onto his chest. Emerging into the panel is MURRAY, a short, slightly plump Euro-American with curly brown hair and thick glasses. He's wearing a photographer's vest and Army-surplus boots and khaki pants and holding a video recorder.
Hector (1): Good work, team. Murray, did you get all that?
Murray (2): Sure did. Even a few good facial shots of Laura Bell's exciting last minutes on earth.
Murray (3): Just a bit of editing and strategic facial pixelations, and it will be ready to release.
Links and Downloads