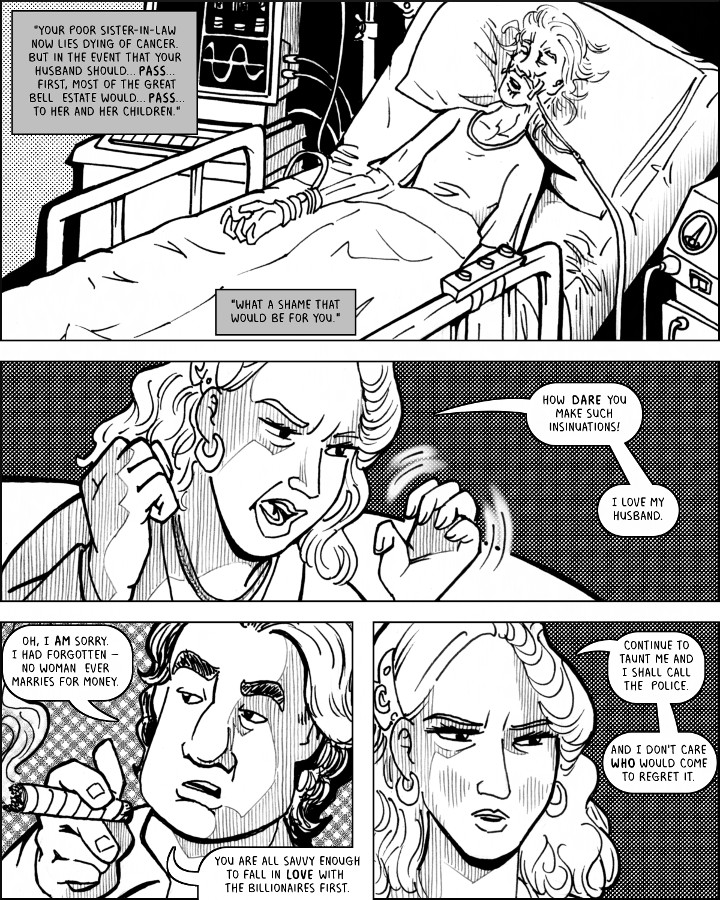 << First Page | < Previous Page | Next Page > | Last Page >>
Click on image for high-resolution version.
License

This work is licensed under a Creative Commons Attribution-NonCommercial-ShareAlike 4.0 International License.
Script
PAGE 8 (Four panels)
Panel 1: View of an emaciated woman lying in a hospital bed, an oxygen mask over her face.
CAPTION – HECTOR SPEAKING (1): "Your poor sister-in-law now lies dying of cancer. But in the event that your husband should…pass… first, most the of the great Bell estate would…pass…to her and her children."
CAPTION – HECTOR SPEAKING (2): "What a shame that would be for you."
Panel 2: View of Laura on the couch, looking indignant.
Laura (3): How dare you make such insinuations!
Laura (4): I love my husband.
Panel 3: Hector, his face mock-apologetic, the cigar to one side.
Hector (5): Oh, I am sorry. I had forgotten – no woman ever marries for money.
Hector (6): You are all savvy enough to fall in love with the billionaires first.
Panel 4: Laura, leaning forward, her face now dark and flushed with anger.
Laura (7): Continue to taunt me and I shall call the police.
Laura (8): And I don't care who would come to regret it.
Links and Downloads