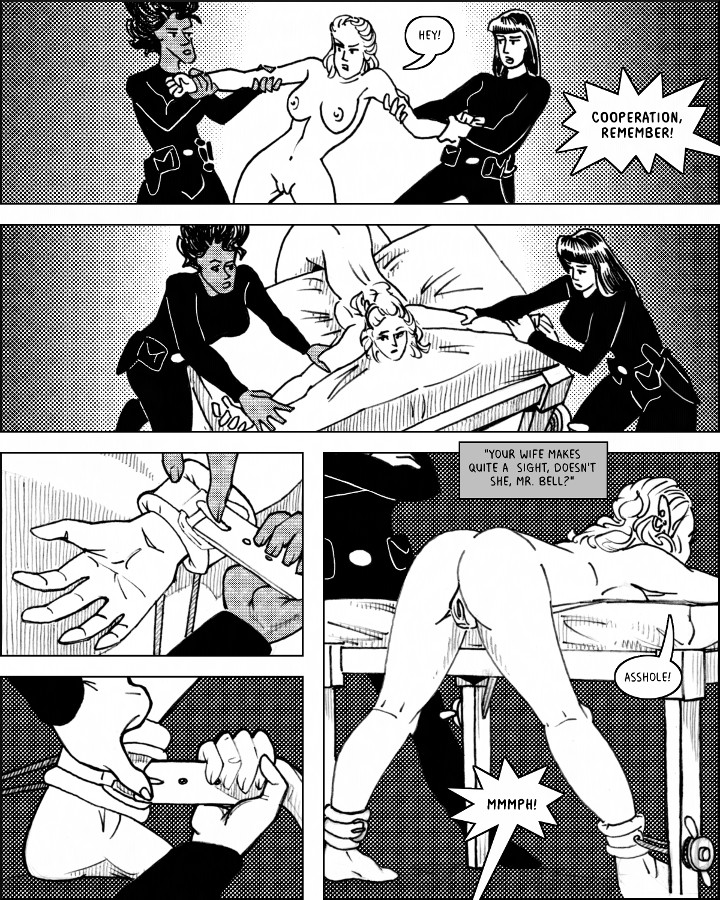 << First Page | < Previous Page | Next Page > | Last Page >>
Click on image for high-resolution version.
License

This work is licensed under a Creative Commons Attribution-NonCommercial-ShareAlike 4.0 International License.
Script
PAGE 17 (Five panels)
Panel 1: Laura has been seized by both arms, Keisha on one, Hong on the other. She's being pulled somewhere and is resisting somewhat.
Laura (1): Hey!
JAGGED BALLOON INDICATING HECTOR GIVING AN ORDER (2): Cooperation, remember!
Panel 2: View seen as if from the room of the factory. We see Laura bent down over some sort of high, padded table. Her arms are being spread out by Keisha and Hong and fastened with restraints at each end of the table so she is face down, cruciform. On the legs of the table are two more restraints for each of her ankles.
Panels 3 & 4: One normal panel, divided diagonally. In Panel 3, we see an extreme close-up of one of Laura's wrists being fastened, and in Panel 4, one of her ankles.
Panel 5: A view of Laura from behind, her ass and vulva exposed as she is bent over facing away from the viewer, her legs and arms spread apart.
CAPTION – HECTOR SPEAKING (3): "Your wife makes quite a sight, doesn't she, Mr. Bell."
CAPTION – BELL TRYING TO SPEAK THROUGH HIS GAG (4): MMPH!
Laura (5): Asshole!
Links and Downloads