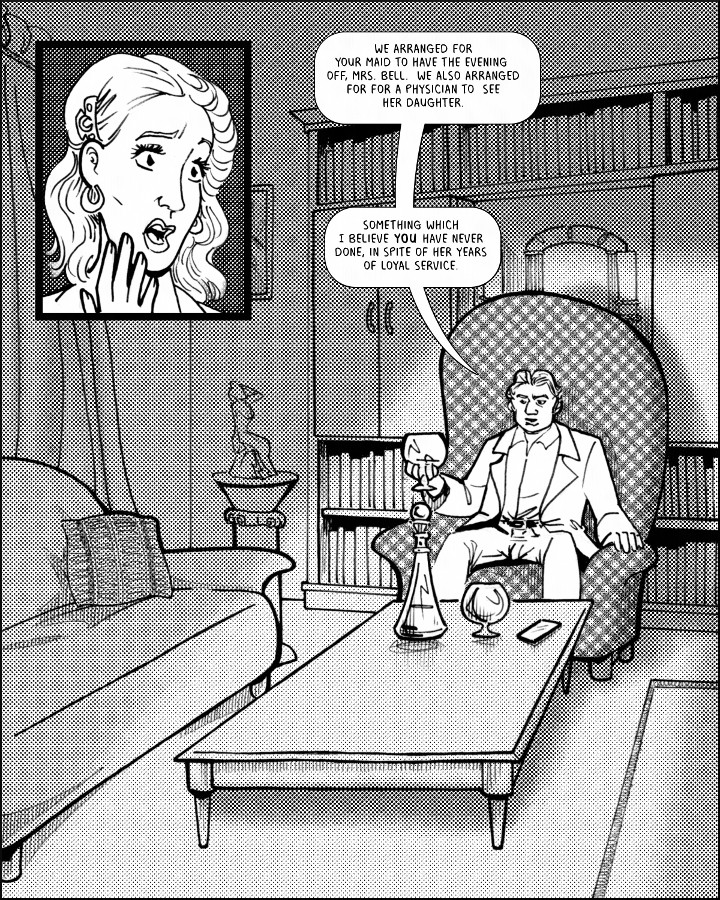 << First Page | < Previous Page | Next Page > | Last Page >>
Click on image for high-resolution version.
License

This work is licensed under a Creative Commons Attribution-NonCommercial-ShareAlike 4.0 International License.
Script
PAGE 3 (Two panels)
Panel 1: This should be a smaller inset panel in the upper right-hand corner of the page showing Laura's face registering shock. She has just turned on the lights to her living room and sees what we shall see in Panel 2 just below.
Panel 2: Laura's P.O.V. At one end of a richly (but very tastefully – there are books and expensive objets d'art on shelves) appointed living room sits HECTOR GUERRERO ("Hector"). Hector is a man of medium height, muscular, with chiseled handsome features, an olive complexion, black, slightly wavy hair, and eyes like coal. In this panel is he dressed in slacks, a button-down shirt and a tweed jacket, such that were it not for his physicality vague air of menace he might be taken for a college professor. He is seated in a high-backed chair, holding a snifter of brandy. His expression is entirely calm. On a low table in front are laid out a brandy decanter, a second empty snifter, an ash tray, and a high-end mobile phone. To Hector's right there is a couch, currently unoccupied.
Hector (1): We arranged for your maid to have the evening off, Mrs. Bell. We also arranged for for a physician to see her daughter.
Hector (2): Something which I believe you have never done, in spite of her years of loyal service.
Links and Downloads