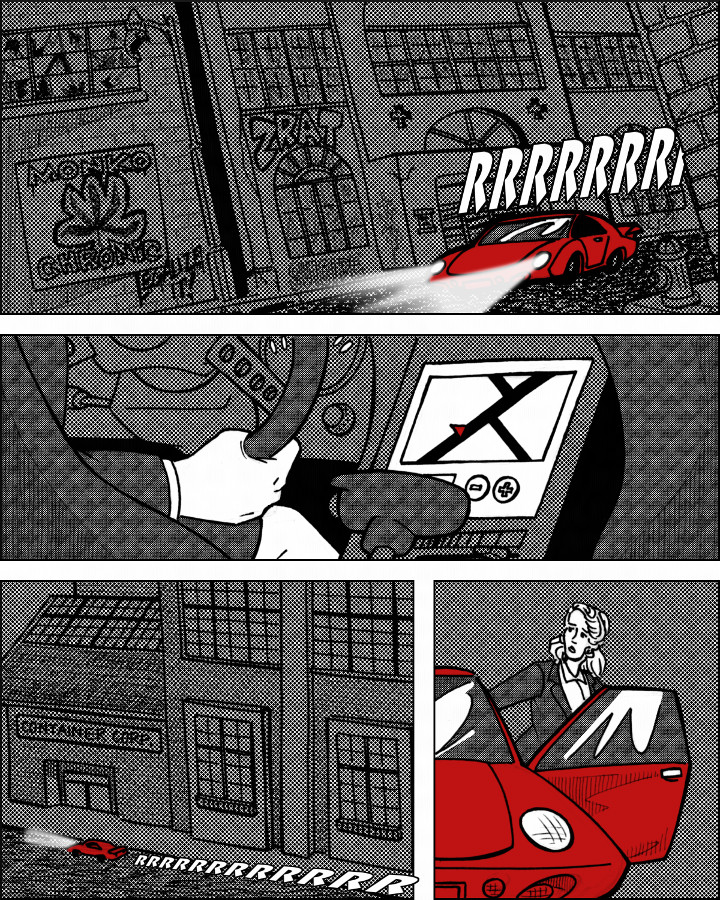 << First Page | < Previous Page | Next Page > | Last Page >>
Click on image for high-resolution version.
License

This work is licensed under a Creative Commons Attribution-NonCommercial-ShareAlike 4.0 International License.
Script
PAGE 10 (Four panels)
(Partly in color – just Laura's car)
Panel 1: Nighttime. A cute and very pricey little red sports car drives underneath a street light in what is clearly a pretty tough part of town – the street has cobbles, the streetlight might be askew, and whatever other details the artist can think to add to convey this idea.
SFX – CAR ENGINE (1): RRRRR….
Panel 2: Interior of the car, a view as if we are looking between the front seats from the back. We can see Laura's right arm on the steering wheel, and in the center of the dash a GPS screen. In the next several panels, Laura is wearing a sober, conservative women's business suit.
Panel 3: Laura's sports car coming to to a stop in front of a loading dock of an old brick factory.
SFX – CAR ENGINE SLOWING AND STOPPING (2) RRrrr…
Panel 4: Laura stepping out of her sports car. She's clutching a purse tightly to herself and looking around, a nervous expression on her face.
Links and Downloads