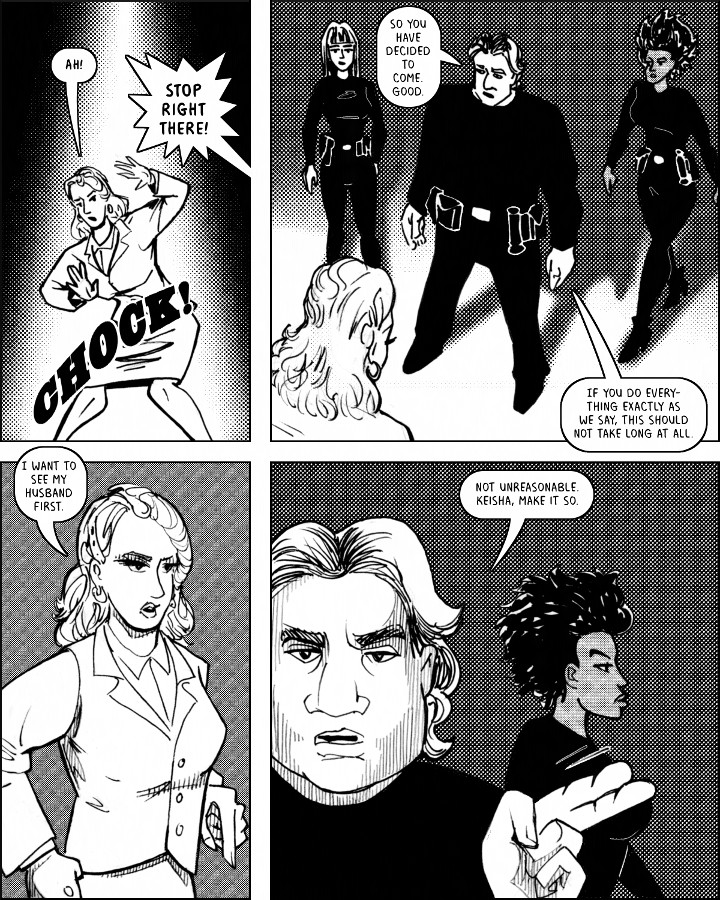 << First Page | < Previous Page | Next Page > | Last Page >>
Click on image for high-resolution version.
License

This work is licensed under a Creative Commons Attribution-NonCommercial-ShareAlike 4.0 International License.
Script
PAGE 13 (Four panels)
Panel 1: View from the middle distance, as Laura is suddenly coned in a bright white light from above. Laura's arms are thrown out as she is startled.
Laura (1): Ah!
SFX – BIG SWITCH BEING THROWN (2): chock!
JAGGED BALLOON INDICATING SOMEONE GIVING AN ORDER (3): Stop right there!
Panel 2: Walking into the cone of light are Hector and his two helpers, KEISHA ("Keisha") and HONG ("Hong"). Keisha is African-American, Hong Asian-American. Both are attractive fit-looking young women. All of Hector, Keisha, and Hong are wearing form-fitting black jumpsuits. All have various hard-to-define doo-dads on belts on their suits. Hector stands in the middle of the three and a little closer to to Laura than his two assistants.
Hector (4): So you have decided to come. Good.
Hector (5): If you do everything exactly as we say, this should not take long at all.
Panel 3: Laura standing, looking defiant.
Laura (6): I want to see my husband first.
Panel 4: Hector is making a gesture with his hand in the direction of Keisha, as if directing Keisha to make this happen. As he is doing this Keisha is turning away into the darkness.
Hector (7): Not unreasonable. Keisha, make it so.
Links and Downloads