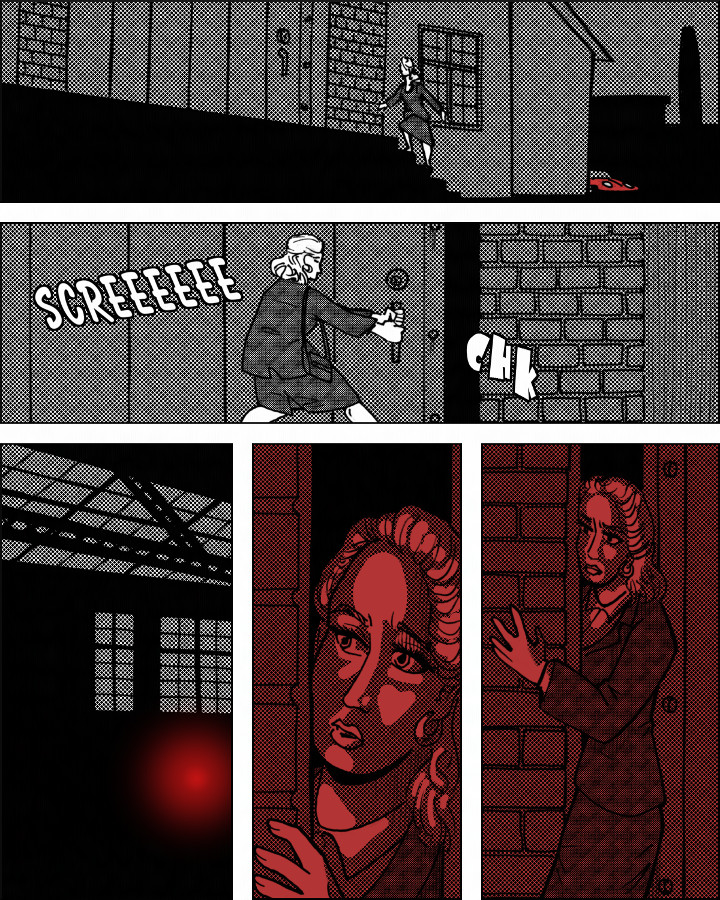 << First Page | < Previous Page | Next Page > | Last Page >>
Click on image for high-resolution version.
License

This work is licensed under a Creative Commons Attribution-NonCommercial-ShareAlike 4.0 International License.
Script
PAGE 11 (Five panels)
(Note: partly in color, the red light)
Panel 1: Laura coming up a short flight of stairs leading to the loading platform.
Panel 2: Laura tugging hard with both hands at a sliding metal door into the factory interior. She's grimacing with the effort. The door has not slid easily and has jammed after opening about a foot.
SFX – DOOR OPENING (1): Screeeee…chk!
Panel 3: This is a small inset panel in a corner of Panel 4, below, representing Laura's P.O.V. as she looks into the gloom of the factory interior. It is a dot of red light set in a field of black.
Panel 4: View from inside the factory. Laura's face is peering through slot made possible by the partly opened door. There is a faint flush of red illumination over everything. Laura's eyes are wide open, nervous.
Panel 5: Laura squeezing through the slot into the factory.
Links and Downloads