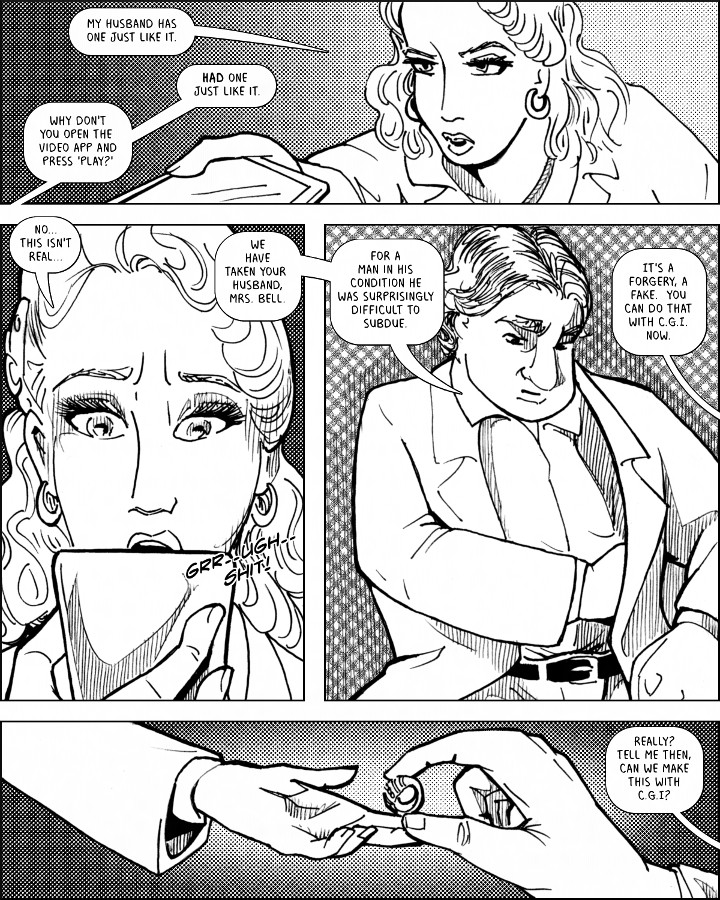 << First Page | < Previous Page | Next Page > | Last Page >>
Click on image for high-resolution version.
License

This work is licensed under a Creative Commons Attribution-NonCommercial-ShareAlike 4.0 International License.
Script
PAGE 6 (Four panels)
Panel 1: Laura holding up the phone, looking at it, her expression skeptical.
Laura (1): My husband has one just like it.
CAPTION – HECTOR SPEAKING (2): "Had one just like it."
CAPTION – HECTOR SPEAKING (3): "Why don't you open the video app and press 'play?'"
Panel 2: Laura looking at the phone, her face registering confusion and alarm.
Laura (4): No…this isn't real…
SFX – SOUNDS OF A STRUGGLE ON VIDEO (5): grr..ugh..shit!
CAPTION – HECTOR SPEAKING (6): "We have taken your husband, Mrs. Bell."
CAPTION – HECTOR SPEAKING (7): "For a man in his condition he was surprisingly difficult to subdue."
Panel 3: Hector in his chair, having put down his brandy snifter. He is reaching into his jacket to withdraw something from an inner pocket.
CAPTION – LAURA SPEAKING (8): It's a forgery, a fake. You can do that with CGI now.
Panel 4: Extreme close-up showing a gold wedding band being passed from Hector's finger's to Laura's.
Hector (out-of-panel balloon) (10): Really? Tell me then, can we make this with CGI?
Links and Downloads