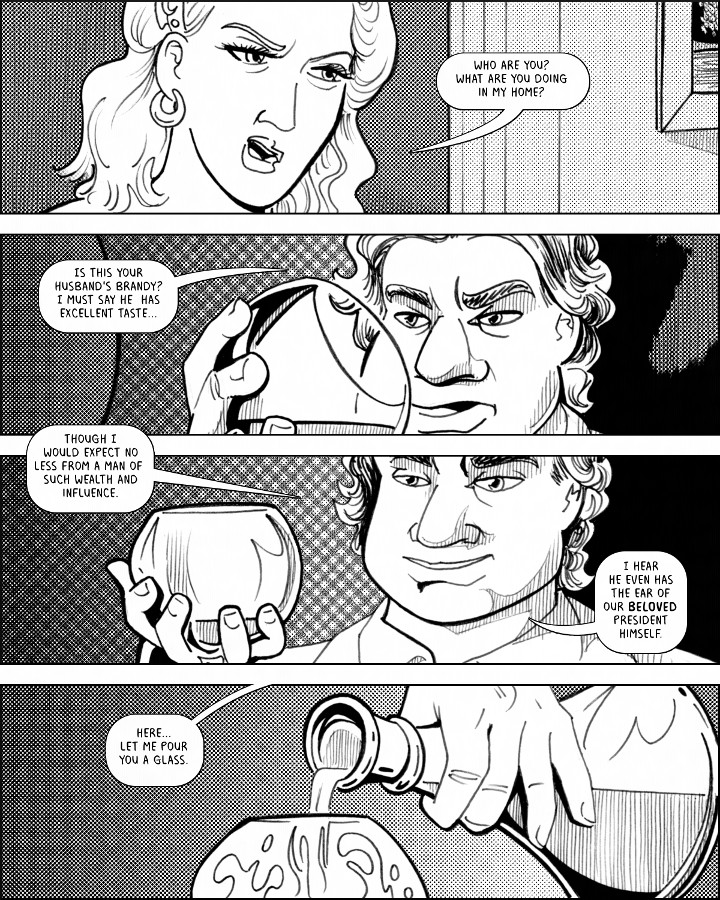 << First Page | < Previous Page | Next Page > | Last Page >>
Click on image for high-resolution version.
License

This work is licensed under a Creative Commons Attribution-NonCommercial-ShareAlike 4.0 International License.
Script
PAGE 4 (Four panels)
Panel 1: View of Laura, her face contorted in anger.
Laura (1): Who are you? What are you doing in my home?
Panel 2: View of Hector, calmly taking a sip from his snifter of brandy.
Hector (2): Is this your husband's brandy? I must say he has excellent taste…
Panel 3: Hector, still holding the snifter in his hand, now looking up with a slight smile.
Hector (4): Though I would expect no less from a man of such wealth and influence.
Hector (5): I hear he even has the ear of our beloved President himself.
Panel 4: Hector pouring a little brandy from the decanter on the table into the previously-empty snifter.
Hector (6): Here…let me pour you a glass.
Links and Downloads