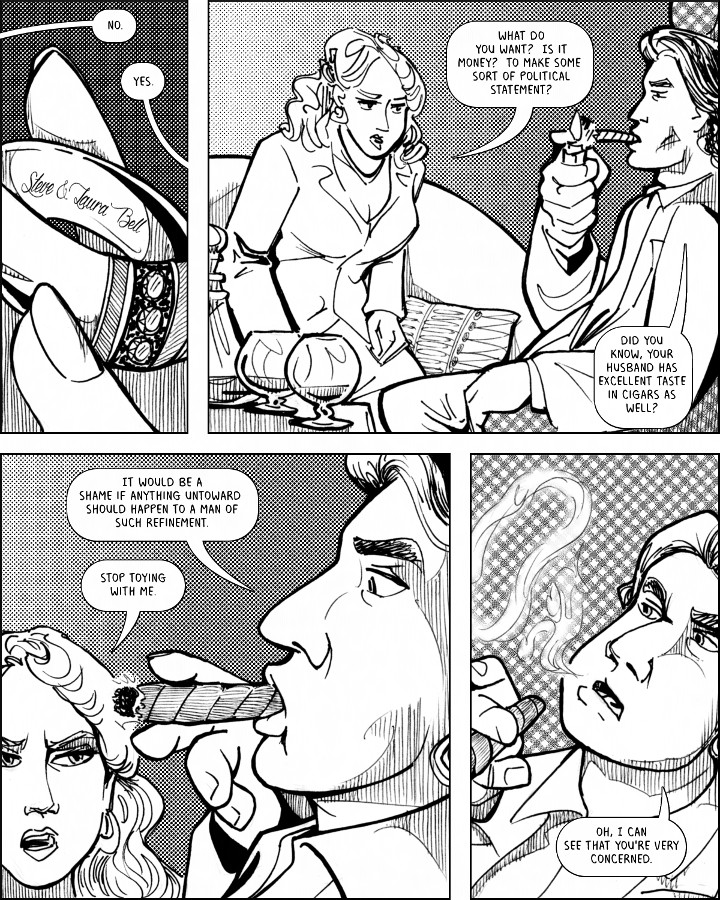 << First Page | < Previous Page | Next Page > | Last Page >>
Click on image for high-resolution version.
License

This work is licensed under a Creative Commons Attribution-NonCommercial-ShareAlike 4.0 International License.
Script
PAGE 7 (Four panels)
Panel 1: Laura's P.O.V. She is looking at the inside of the wedding band, which she holds with her fingertips. Inside the band we can read at least part of the inscription STEVEN & LAURA BELL.
CAPTION – LAURA SPEAKING (1): "No."
CAPTION – HECTOR SPEAKING (2): "Yes."
Panel 2: Laura is now sitting on the couch to Hector's right. Laura looks like someone trying – successfully for the moment – to keep her anger under control. Hector is lighting a cigar and looks very calm.
Laura (3): What do you want? Is it money? To make some sort of political statement?
Hector (4): Did you know, your husband has excellent taste in cigars as well?
Panel 3: Hector smoking, having now lit his cigar.
Hector (5): It would be a shame if anything untoward should happen to a man of such refinement.
Laura (6): Stop toying with me!
Panel 4: Close up on Hector's face. He's blowing smoke rings.
Hector (7): Oh, I can see that you're very concerned.
Links and Downloads