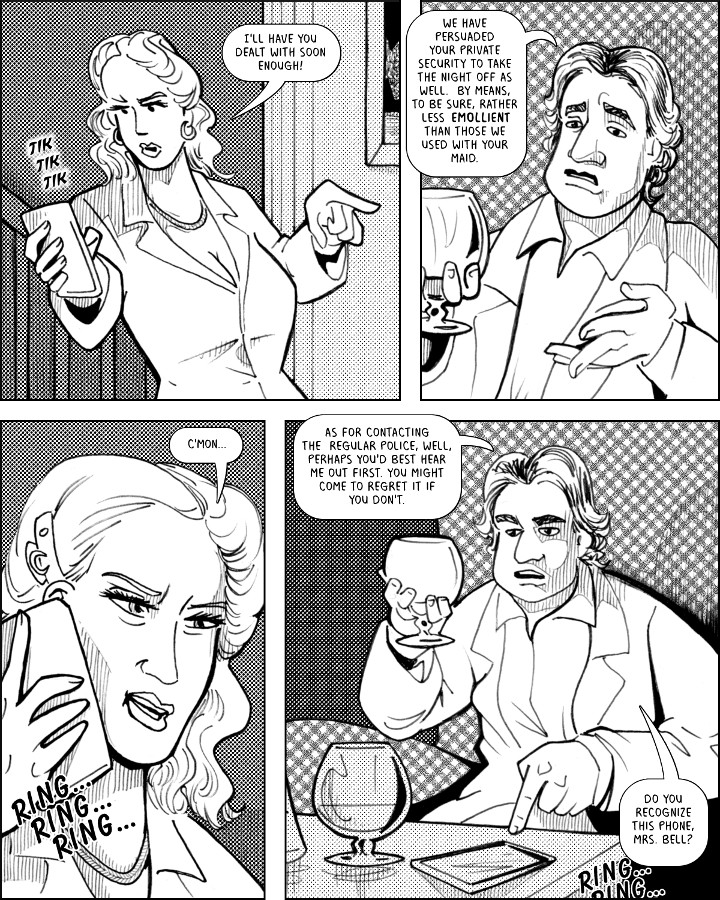 << First Page | < Previous Page | Next Page > | Last Page >>
Click on image for high-resolution version.
License

This work is licensed under a Creative Commons Attribution-NonCommercial-ShareAlike 4.0 International License.
Script
PAGE 5 (Four panels)
Panel 1: Laura is now holding a mobile phone in one hand, dialing with her thumb, pointing with her other hand, her expression at once haughty and angry.
Laura (1): I'll have you dealt with soon enough!
SFX – PHONE DIALING (2): tik…tik…tik…
Panel 2: Hector sits back in his chair, brandy in hand, an almost-pitying look on his face. He speaks as Laura's phone rings at length, going unanswered.
Hector (3): We have persuaded your private security to take the night off as well. By means, to be sure, rather less emollient than those we used with your maid.
SFX – PHONE RINGING (4): ring…ring…ring…ring…
Panel 3: Laura holding her phone to her ear, beginning to look agitated as no one picks up on the other end of the line.
Laura (5): C'mon…
SFX – PHONE RINGING (6): ring…ring…
CAPTION – HECTOR SPEAKING (7): "As for contacting the regular police, well, perhaps you'd best hear me out first. You might come to regret it if you don't."
Panel 4: Hector leaning forward in his chair, touching his finger to the mobile phone laid out on the table.
Hector (8): Do you recognize this phone, Mrs. Bell?
Links and Downloads